Tempest Photography is the official photographer for your award ceremony and for any formal studio portraiture you might like on the day of your ceremony.   Below are details of the photographic offerings available to you.
No other professional photographers or college photographers will be allowed in the grounds of Senate-House to take pictures of graduands. If you have booked an external commercial photographer for photographs on the Yard, they will be removed from the grounds.
Senate-House Ceremony Photographs
Whilst personal photography is not permitted in Senate-House, all graduands attending their ceremony in person will be photographed at the moment that their degree is conferred. These photographs will be available for purchase immediately after the ceremony from the lawn marquee, with prints available to take away (fully framed or just mounted).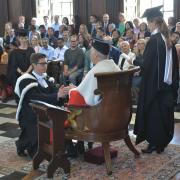 How do I order my Senate-House image?
Visit the lawn marquee and locate your image on the proof boards.
Make note of the image number printed below your proof image.
Speak to a salesperson to place and pay for your order (your photos will be printed right away). Card payment is preferred but Tempest will take cash payment if necessary.
Collect your order from the order collection desk in the lawn marquee.
After the day of the ceremony these images will be made available for purchase via the Tempest website. www.tempest-events.co.uk  These will be accessible 7 days after your ceremony and will remain online for 6-months.              
Can I have photographs on the lawn at Senate-House? 
Yes. You and your guests can take pictures on the lawn of Senate-House following the ceremony - please note that guest photography is not permitted inside the Senate-House.
Studio Photographs (The Combination Room) 
Professional studio photography will be available in the Combination Room.  Friends and family are welcome to join you in the studio for photographs.  The studios will be open throughout the day and you can drop in at any time with no booking required and with no obligation to purchase.  Instant proofs of your images will be provided and these will help you make your selection and place your order.  Proofs can also be taken away, allowing you to make your selection later at your leisure via the website.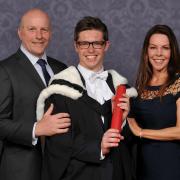 How do I have a portrait and family group photos taken?
Visit the Combination Room either before or after your ceremony (no booking required).
Enjoy your studio experience (with no obligation to purchase).
View your instant proof images.
Place an order with our sales team located in the Combination Room, or leave with your proof sheets and order later via the website.
The Combination Room is located in the Old Schools just off Senate House lawn but still within the grounds. Please ask a Constable for directions if you are unsure. 
Want to order later? Photos are also available to order from www.tempest-graduations.co.uk (please allow 7 days for photos to be uploaded)
Certificate Frames
Tempest provide a selection of certificate frames in the lawn marquee and a framing service on the day.